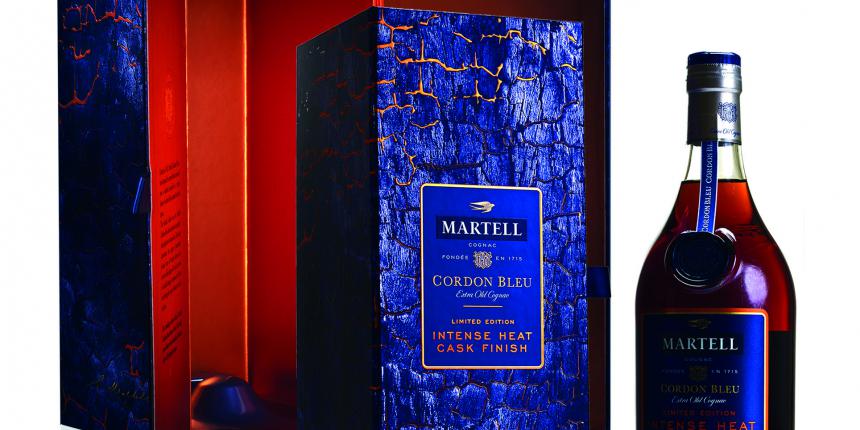 For its limited edition Martell Cordon Bleu Intense Heat Cask Finish, the Brand has entrusted to Alliora this realization featuring a design inspired by the warmth of wood and the art of drilling barrels. A technical realization for a result full of symbols.
This box is built on a cardboard base dressed in an agro-design paper fully coated of silver polyester. The three shades of blue and the golden texts are offset printed. Some parts of the decor in relief as the wood veins are embossed, while others are silkscreen printed.
When magic happens…
This originality is based on the use of a thermo chromic serigraphic ink that affixed to certain parts of the decor reveals under the heat (from 37°C) the orange print of an incandescent wood that would have revived the flame. This effect refers to the technique of Martell which consists of working the barrels under the action of fire. This practice, known as toasting, gives alcohol its special taste.
Premium quality
In order to guarantee a perfect fit, Alliora paid special attention to automatic pressing gluing systems.The wrapping cuts are thus made according to a specific process that ensures a high-quality assembly of the box.
This box has been designed in 2 sizes for 3 references (1l, 75 cl, 70 cl), for which only the inner wedge and the texts change.
Credit: Alfarela Studio/Alliora
Press Agent: Sylvie GRAND:+ 33 (0)6 09 28 54 76 I sylvie@rougecom.fr