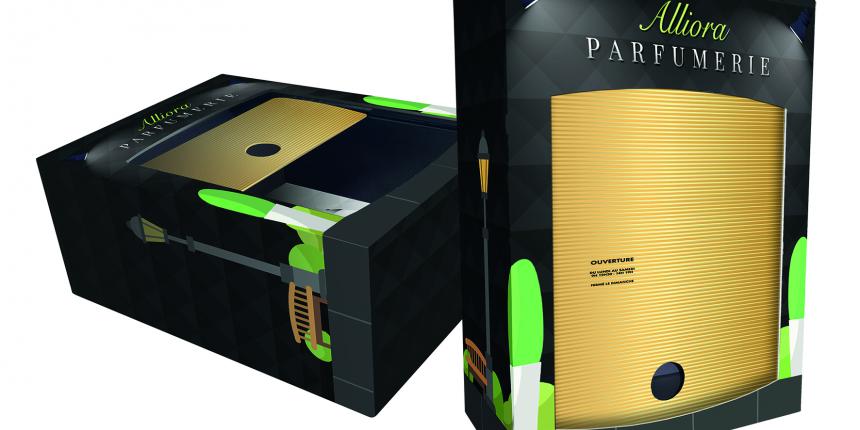 Faithful to its creative positioning, Alliora invents a new concept of boxes: a premium box with sliding opening in a "shop" spirit for the most beautiful effect. The specific tools and innovation of thermoforming are the keys to this creation.
Perfume, cosmetics, wines and spirits, delicatessen..., Alliora constantly optimizes its know-how in order to provide the exact answer to its customers. The manufacturer reinvents volumes, rethinks the opening systems, works innovative materials. He develops techniques and the associated specific tools, integrating all the industrial stages in his French site.
The trick of a sliding opening 
This new box subtlety relies on its closing system. The latter is based on a concept of lateral rails made by thermoforming and bonded to the internal faces of the structure. This sliding principle enables the door to slide upwards and to continue its arcuate course until it disappears along the inside face of the box.Made in a cardboard of standard thickness, this box does not present any particular constraint. It offers an interesting alternative to brands wishing to develop a differentiating packaging.
A shop look 
Like a store with its iron curtain, this case fits perfectly into the world of beauty. Depending on the format and decoration, it will suit a promotional campaign as a traditional sales product. 
This new creation will be presented at Luxepack in various colors. 
Crédits: Alliora
Press contact : Sylvie GRAND+ 33 (0)6 09 28 54 76 I sylvie@rougecom.fr